"We integrate the pursuit of intellectual development within the creative arts to inspire self discovery and empowerment in the experience of learning globally." ©
Who are we?
The main administrative branch of I SAW The Experience of Learning Global Communities has its headquarters in DC.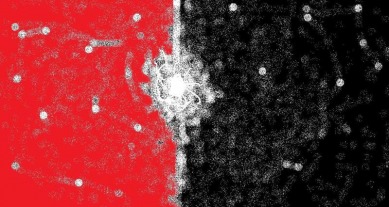 'Two Worlds' by Khari Eyen Zame Johnson. All Copyrights Reserved 2010.
Contacts:

THE CREATIVE DIRECTOR OF CURRICULUM AND ACADEMIC PROGRAMS-
Develops the conceptual framework of all academic programming into an effective educational model. Directs the creative curriculum, its talent development as well as implements its focus by designing interdisciplinary activities and workshops to inspire high levels of creative learning and teaching in alignment with state and national standards.
Serves as a workshop presenter for "LIVING IMAGES IN MY WORLD."
email: quentina@isawdc.org

THE DEAN OF YOUTH DEVELOPMENT-
Role model and facilitator of inquiry based learning by supporting our teens' self development, leadership skills and life long learning through promoting the collaborative teamwork and motivation of youth researchers in a community based education project. Serves as the project mentor, learning coach and adviser for teen leaders and research team members so they may successfully meet their project goals. Engages in presenting empowerment workshops and monitors the coordinated onsite youth activities and youth field research teams. Motivate and assist youth researchers with self confidence and discipline. Support youth in completing the end products outlined in their portfolio according to I SAW! curriculum guidelines. Assist in evaluating youth researchers' performance. Develops relationships with parents and community to increase awareness about the accomplishments of youth participants and how community based education projects demonstrate a student's high level of achievement in multiple academic areas as well as strong leadership skills and the ability to innovate social change in their communities.
email: educate@isawdc.org

THE ARTISTIC DIRECTOR OF EDUCATION-
Directs the instructional program in alignment with the conceptual framework of the creative curriculum and supervises the teacher intern programs. Guides and supports the structure of teaching and learning. Provides the instructional format, training and evaluation for teachers as well as manages weekly workshops as a liaison between museums, theaters, galleries, artists and ongoing local creative art programs in the city for "LIVING IMAGES IN MY WORLD."
email: educate@isawdc.org

THE COMMUNITY OUTREACH DIRECTOR-
Promotes community engagement and community investment in students' creative abilities and academic talent development. Uses innovative approaches to expand the organization's outreach to generate a positive impact on the overall community it serves. Acts as a liaison between parents, students, school, civic leaders and other community members to spark local involvement, participation and collaboration. Supports the advisory board by developing relationships between our local centers and interested, committed members of the greater society. Actively pursues a network of partnerships that share resources and knowledge systems to assist The Creative Director of Curriculum and Academic Programs.
email: educate@isawdc.org

THE MAAT INSTITUTE-
In partnership with The MAAT, presents workshops and tours focusing on creative interdisciplinary lessons centered in mathematics that focus on history, culture and science through tours, discussions and interactive learning about the history of ancient architecture, geometry and mathematics and how it designs DC's local community.
email: cade@isawdc.org.

THE YOUTH & CULTURAL ARTS COORDINATOR-
Promotes the cultural presence of the program in outreach efforts. Works directly as a liaison with volunteer tutors and DCPS students during workshop presentations and support with teaching. Assists the Artistic Director of Education and the Community Outreach Director.
email: educate@isawdc.org

Young Creative Artist in Residence-
A young visual arts high school student donates their artistic and creative talent to design, direct and contribute to the visual media on our website. The youth leader serves the community as mentor, artist, scholar and activist.
email: eyenzame@isawdc.org

Young Creative Artist in Residence-
A young dramatic performance arts high school student uses their talent to create expressions in a collective work for our multimedia presentation. The youth leader serves the community as mentor, artist, scholar and activist.
email: youth@isawdc.org

©2010 All Trademarks, copyrights and permission for use are reserved by Quentina Johnson on all written materials, information and intellectual property printed on this website. No copies, duplication or dissemination of any written material or intellectual property on this website is permitted.


---